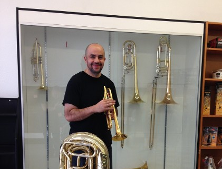 Meet Jerry Ruvalcaba,
President & Head Technician of IBI
For 23 years Jerry has been refining his craft. He received his first influence in instrument manufacturing from his father who worked making both Benge and Olds brass instruments. Jerry's first real hands-on experience came from employment with Caliccio and Kanstul where he eventually became foreman of the bell department. Years later Jerry received his instrument repair apprenticeship from Martin Wilk. Spending years as head technician of a reputable band instrument store in southern California, Jerry realized his love of band instruments on every level.
Having great new ideas on instrument repair and modification Jerry decided to make his own mark in the industry. Jerry looks forward to serving all your band instrument needs.